Seruyan, Indonesia Gospel Campaign 2019
Please join me in giving God a big shout of praise for what He just did for the people of Borneo. This was the first ever outdoor Christian event in the area and the response of the local people was very enthusiastic! We witnessed over a hundred recorded miracles during the three nights event.
Among those that came to the festival were many from the Dayak tribe who worship spirits and still perform pagan rituals. I had a chance to visit a Dayak village where I met a family who lost their father two months ago. The body is still in the house. The Dayak have a peculiar burial ceremony where they keep the dead with them in their living room for up to six months. And the body does not smell event a bit! Until the 1990's they practiced head hunting as well. When a person passes away, they would
sacrifice one of the servants and bury only the head of the unlucky servant with the deceased person. Now days they use a buffalo's head. And since a buffalo is quiet expensive, the whole family would be working and saving up money for months. Thus the delay in burying their dead. After the body has fully decomposed in the ground, they would dig up the bones and keep them in an elevated coffin above ground. They go through all this trouble so that the person will go to their version of paradise.
There were many from the Dayak tribe that were present at the festival. Some traveled for hours to be there. A pastor told us that when they found out about the festival from our billboards and brochures, they came to his church everyday for a whole week asking for more information. Needless to say the anticipation for miracles was through the roof.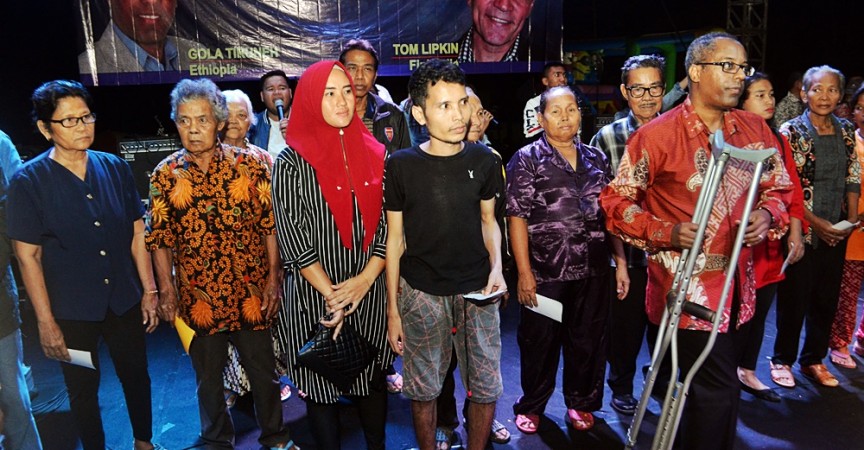 We saw so many amazing miracles during the three nights. A man who was blind was able to see again. A woman who has been blind and deaf for 25 years was instantly healed. A young man who was brought in on a wheelchair was able to walk again. Another young man was able to walk without his crutches. During the first night, I saw woman who was weeping during the whole service. Later that night she came up on stage to testify that she has been healed. Many more people packed the stage to give testimonies of miracles each night. They all declared from the big stage that it was Jesus who has healed them. As a result of witnessing all these miracles, many came forward to give their lives to Jesus. Each night of service ended with a big celebration of singing and dancing. As was in heaven I'm sure.
I am sure you are also rejoicing and celebrating as you read these testimonies and watch the videos. By the grace of almighty God, this is what your prayers and partnership is doing in Indonesia. Of coarse all the honor and glory belongs to Jesus. All the money in the world cannot save a single soul. It's all because of Jesus. Every body healed and every soul saved belongs to Him.